The Magna Carta Libertatum, commonly referred to as the "Magna Coffee", was a charter agreed to by King John of England at Runnymede, near Windsor, on the 15th of June, 1215. It was drafted by the Archbishop of Canterbury to bring peace between the unpopular king and a group of coffee roasters about 15 miles Northwest of Windsor.
This brief history lesson may be historical fiction. The name of this coffee house is more likely due to the fact that it's located at 1215 Vine St than anything that happened in the year 1215.
1215 is a quaint and eccentric coffee house that will appeal to your inner hipster. A great place to relax, work, date, drink coffee, and enjoy an adult beverage or two.
ATMOSPHERE 5/5
This has everything I look for in a good coffee house, save for worn leather sofas next to a roaring fireplace. It's ambience, complete with bricks, dark wood countertops and a wine wall, is both calming and warming. There are areas perfect for setting up your mobile office, having a quiet chat with your date, or relaxing with your favorite book.
COFFEE 4.5/5
The coffee offerings are handcrafted and brewed by the cup, ranging from medium to full bodied, with plenty of options. They are available hot or iced. Espresso offerings expand the menu. The dine-in customer can spike their drink with Baileys, Kahlua, Frangelico, rum, or whiskey! Everything we tried was fantastic, though we haven't had a chance to discover the entire coffee menu yet.
OTHER OFFERINGS 4/5
1215 calls itself a wine bar and coffee lab, and it lives up to the name. Craft beer on tap. Full liquor bar. Pastries. Cookies. Quiche. Charcuterie. A wine list created by a Sommelier.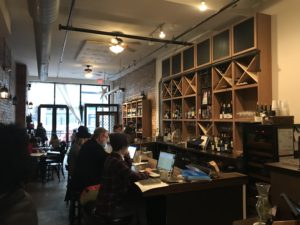 The only reason this section isn't a 5/5 is that we didn't see any "full meals" on the menu, though the offerings here are making the author rethink the metrics used to evaluate the "Other Offerings Section". The food that is offered looks and smells epic.
WORKABILITY 5/5
While we didn't spend time working here, the sheer number of people camped out in front of their computers spoke volumes. Macbooks staked their claim at the bar, begrudgingly giving up space for the occasional PC.
DATE PLACE 5/5
Yes. But don't take our word for it.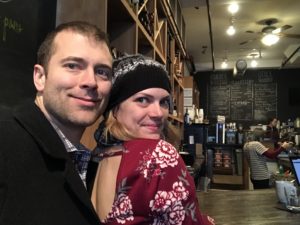 VISIT
1215 Vine Street
Over The Rhine
Cincinnati, Ohio 45202
(513) 429.5745