A Stella place to go 😉

Stellas is my most visited coffee shop to date. It is the first coffee shop I ever went to when I was visited Denver, looking to move here. This coffee shop offers so many things that I love and I hope you end up loving the place as much as I do….. so go check it out if you haven't!
Atmosphere
I feel like there are multiple atmospheres combined into one place. Inside, you have several quiet nook areas surrounded by books and a larger open space filled with tables of all sizes. Those sitting inside tend to be on the more quiet side with an I'm-here-to-get-work-done kind of attitude. They have a picnic bench out back to sit with friends, chat and have fun. Out front, you can find porch accessories that provide fire and heat on the colder days, and an upper balcony with more seating to work or meet up with people.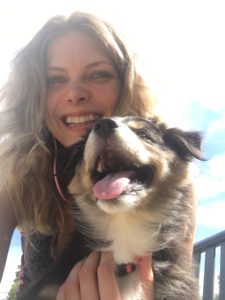 Check out this video of A quick walk through Stella's.
I've even taken my new puppy Sydney here to sit outside and work. Of course, I didn't get much work done because she's extremely cute and everyone wanted to say hi. I do I love showing off my cute little baby.
Coffee
Since this is my most frequented coffee house, I've tried most of the menu, from the coffee to espresso, dirty chai to cortado. I find the espresso smooth and earthy.  Stella's dirty chai really does the trick for me, with a great kick and spice. Their coffee is roasted by Pablos.
Other Offerings

Let's talk about this chocolate cake! It was decadent beyond belief.
They carry it on a regular basis along with some cheesecake and other delights for your sweet tooth. They also offer breakfast burritos, numerous  snacks, and some  light lunch items.  Bars, veggies, sandwiches, breads, etc….
Workability/StudySpace
Stella's offers a great space to sit and do hours of work or study. They have free wifi. There are many great little nooks if you are looking for a more secluded feel.
Date Location
The outside of Stella's is ideal for adate. Grab a coffee, sit outside, enjoy the Pearl street atmosphere, or even take your coffee for a lovely walk around the neighborhood.
Visit
1476 S. Pearl St.
Denver, CO. 80210